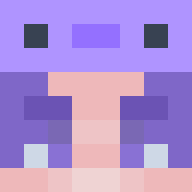 Joined

Mar 28, 2019
Messages

5
Likes

0
Points

1
Hello welcome to my staff application. 1. What is your IGN?


My ign is LUKE_2552000


2. What is your age?


I'm 16 i lied about my age last time.


3. What is your timezone?
EST
4. Are you a donator?


No im not but i whould love to be one.


5. What is your Discord ID?


DemiX#7858


5. How many hours a day can you dedicate to MuxMC on average?


I could play 24/7


6. Are you multilingual (Speak more than one language)?


I am.


7. How long have you played MuxMC?


I have played a little bit.


8. What do you think of MuxMC?


I think muxmc is the best little server .


9. Why do you want to be Staff on MuxMC?


I want to be staff becuse i think i whould be good to people

.
10. Why should we choose you over other applicants?


I think so you should chose me becuse i will be good.

11. Do you have any past Staff (or similar) experience on or off MC?


Yes i do.


12. Have you ever been punished, no matter how small, on MuxMC?

No i havent.